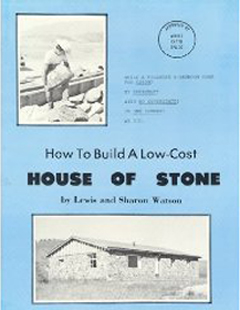 How to Build a Low Cost House of Stone is available through Amazon.com
It is currently on sale by the author/publisher (Sharon Watson)
for $10., autographed (normally $11.95).
At Amazon, click on BOOKS and then type in: How to Build A Low
Cost House of Stone. OR go here:
and check the listing under Stonehouse Publications.
OR send a check for just $10. plus $2. postage (within U.S.) to:
Sharon Watson
11560 Timber Butte Rd
Sweet, ID 83670

From a little stone homestead in the country comes this list of books for those folks dreaming of log cabins (or stone houses), and simple-living in the country.
(Sorry- list of books is in preparation.)


Within this Web site you will find the information to make those dreams of doing-it-yourself and dwelling in remote places a reality. Subjects include buying land, building your own home using stone or logs, adobe straw bales, going underground, carpentry, wiring, alternative power systems, planning a garden, raising livestock,
considering new lifestyles, and building your own business.

Do part of it, or all of it. Create the vision, build your world, take control of your life.
Sharon Watson